2020-21 HALL OF FAME INDUCTEES
Rider: Kyle Querrey

Kyle has over 6000 competition miles in SEDRA (plus many more that were accrued prior to his becoming a SEDRA member). He has competed and continues to compete very successfully in both endurance and competitive trail. He has competed in endurance in many regions in the US, in several distance organizations, as well as internationally in FEI. He has numerous 100-mile rides, numerous top ten completions, including first places, and at least 13 BCs to his credit. He has completed 169 out of 198 starts (43 out of 56 100s). He has many more competitive trail miles and awards from competing around the country. Kyle takes care of the horses he competes, taking into consideration the condition of the horse, the terrain and other mitigating factors. His horsemanship is very good; it's a pleasure to watch him ride. His horses travel relaxed and willingly move forward. Kyle is very respectful to other horses, riders and crew members. It's a rare day that his positive attitude is not evidenced by his bright smile and can-do demeanor. Kyle has shared his expertise with other riders and has mentored quite a few through their first 50, 75, or 100-mile rides. He has also ridden less experienced horses in these events to assist in their conditioning and confidence building. Kyle is certainly a role model for what a distance rider should be.
Equine: Hoover the Mover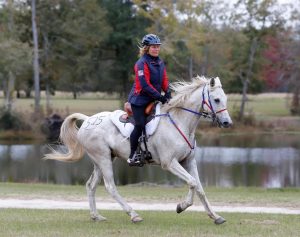 Owner Cheryl Van Deusen  Hoover has over 5480 endurance miles plus two more 100 mile FEI only rides that do not show up on his AERC record. He has completed 22 or 24 100 mile rides with an overall completion rate of 85/92 and 7 Best Conditions. He also has 250 LD miles and numerous CTR miles as well . He is in the AERC decade club, the SEDRA Partners Club, and was also on the 2018 USA team for the World Endurance Games. In 2019 he was USEF National Champion. He is kind hearted and has been a steady mount for many years, including taking care of Young Riders, international riders, but mostly teamed up with his owner and breeder, Cheryl. Although he is still actively at work, he deserves this honor, and thank you for your consideration.
Exemplary Person: Deborah Walker

Deborah Walker LOVES TO RIDE. For SEDRA and other trail organizations, she also loves to help.
    My neighbor and friend, Deborah Walker started riding at competitions at the horse park because she had no way to haul. On her first ride, Shelley Scott Jones asked her to assist me through the last part of the ride when my heart started to act up and I wasn't sure I could go on.
With her help, we finished the ride.
    Since then, Deborah has ridden my horses in competitions. She has cleared and marked trails with me. In fact, Deborah has never stopped helping me or many others.
    When Deborah was younger and prior to distance riding, she helped at stables and exercise rode Thoroughbreds in training at the track.
     We have trained together for many years now. We have also travelled together to rides in Virginia, Tennessee and South Carolina. At our ride in Tennessee this past season her rescue horse Chance won the LD and received Best Condition.
    She has endured many injuries and have not let them get in her way. She is TOUGH. Before she retired, she rode in the dark prior to her postal job to keep her horses in shape.
Her life is RIDING. She has helped many riders get started in the sport of endurance. Now retired, she recently hosted the distance riding clinic which was very successful.
   She mentors new riders through training rides. Her spirit of giving back to the sport resonates through the rookies she has mentored as they all have attended trail workdays and/or volunteered at rides.
Deborah will help anyone that asks (and when you don't, she asks you). -Doug Shearer, DVM
~ Deborah Walker is a true devoted endurance girl! Deb is known for her beautiful black Arabians gliding down the trail.
~A faithful volunteer on every trail cleanup with her mighty chainsaw.
~Debbie put on a clinic with newbies and those students went on to become successful 25 milers hoping to move up in mileage.
Deborah is a caring and loving girl who loves doing endurance. -Elaine Lemiuex
Horse and Rider: Coup and Gayle King 

Coup and Gayle have been a team for 9 seasons and approximately 3000 SEDRA competition miles. They have competed in both endurance and competitive trail with impressive results. In endurance they have completed 51 of 61 rides and were awarded BC three times. They have had top ten placements numerous times and at least 6 wins. Their CTR stats include many miles and several awards as well. Coup and Gayle definitely have a bond. Coup is very attentive and calm when with Gayle and she works with him quietly and calmly. With Gayle riding him, Coup goes willingly and confidently down the trail. When being handled on the ground, especially in CTR competition, Coup actively seeks Gayle's leadership, responding eagerly to her requests. The team is equally as considerate and respectful of others on the trail and in ride camp as they are of each other. After each competition Gayle takes care to make sure her partner is settled in his pen and comfortable prior to seeing to her own needs. This team is an exemplary representation of cooperation and respect. They are a true pleasure to watch and to interact with.