When:
March 18, 2023 @ 6:00 am – 7:00 pm
2023-03-18T06:00:00-04:00
2023-03-18T19:00:00-04:00
Where:
Lee State Park, SC
487 Loop Rd
Bishopville
SC 29010

Contact:
Michelle or Dan Hancock
(803)428-7529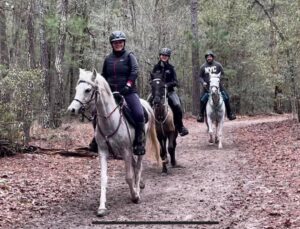 Lizard Run Endurance Ride March 18, 2023
25 / 50 miles and an introductory Ride
Lizard Run Endurance Ride base camp will be located at the arena area located at Lee State Park, 487 Loop Road, Bishopville, S.C. 29010.
Directions: If approaching on I-20, take exit 123 and head North following signs to the entrance of Lee State Park. If approaching from SC Hwy 15, turn onto Lee State Park Road, following signs to the entrance of Lee State Park. Once entering the Park, follow the signs to Arena area.
All activities will be taking place at the Arena Area
Camping: There are 23 sites available for equestrian camping in the campground with electrical and water connections, with 7 of those sites having FHU services, 2 Corrals are at each site that are required to be rented if camping in the campground. This camping area is located 1 mile from the Arena area. These 23 sites should be reserved through southcarolinaparks.com or by calling the Park Office.
There are 4, 30 amp electrical sites at the each corner of the Covered stalls at the Arena area. These four sites can be reserved by calling the Park office @ 803-428-5307. Primitive camping is available at the Arena area with space available for 100 rigs and their horses (2021 had 144 Entries). All camping must be reserved through the Lee State Park Office at (803)428-5307. If reserving primitive camping for Lizard Run Ride before March 12, 2023 it will only cost $20.00 before taxes (non-refundable) for the entire weekend. If reserving after March 12, 2023 the weekend cost will be $30.00 before taxes. This includes camping for arrival on Thursday and leaving on Sunday (March 16-19). Earlier arrival is available. This helps with planning the parking for the camping area during the ride.
Reminder all camping reservation to be made through the Park NOT through Ride Entry by calling 803-428-5307,
Tuesday thru Saturday 10-5, or 11-12 Sunday and Monday
Trails: The trail will consist of woods trails through woods and on the edge of open areas, and along Lynches River under a large tree canopy, unless flooding is occurring from the River. There are some wet areas, also a stretch of gravel ½ mile long, and a short distance of sand (less than ½ mile). All vet-ins will take place at base camp. Intro ride will be one 15 mile loop, 25 miles will consist of 2 loops, 50 miles will be 3 loops.
Facebook Group>>>>https://www.facebook.com/groups/514336966643579