SEDRA Mission Statement"…To educate, promote and encourage participation in equestrian competitive distance events throughout the southeastern United States…"   A Non-Profit 501(c)(3) Organization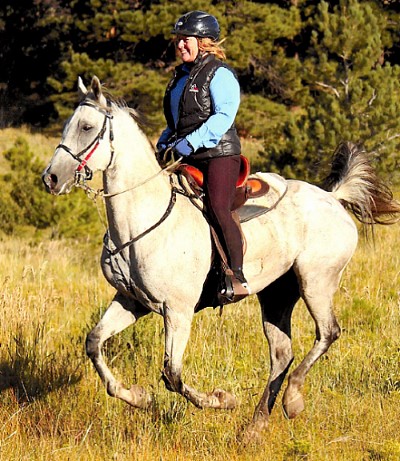 SEPTEMBER 2017 The end of August has certainly challenged our neighbors in Texas. I know the horse community extended their help by offering pastures and stables for horses and places to stay for their owners as they weather the storm. The Red Cross has been a blessing as well.  Sadly, the destruction from Harvey will be felt for many months, possibly years.
The time to make your emergency plan isn't in the wake of a disaster. The American Association of Equine Practitioners website offers several links with checklists: https://aaep.org/horse-owners/owner-guidelines/owner-emergency-disaster-and-preparedness.
Ideas I have heard of over the years are painting your cell number on your horse's hooves, using magic markers or grease pencils to write your number and name on their rumps, and braiding ID tags into their manes. I'm sure there are plenty more suggestions out on the web. Having a location where you can take your animals is essential also.
Be prepared, make a plan.
A BIG WELCOME to the following new members:
Tina Anderson
Tina Cochran
Danny Coleman
Stephanie Peterson
Shirley Waterhouse
Don't forget…Make sure your horse is getting the recognition they deserve too! They need to be signed up separately. The form is on our website.
Congratulations!
Cheryl Van Deusen rode DWA Malik aka "Jeff" to a 5th place finish in the 50 at the National Championships.
We had a great group of SEDRA members representing us at the Iron Mountain ride. Kelsey Russell riding Gingersnap Gold placed 2nd, Roxanne Ciccone riding Mister placed 9th, Valerie Kanavy placed 16th on Flash Goldon and Kathy Burnett was 32nd on Koweta Fair Play. Well done ladies!
Kudos to Caren Risley who had to put Plan B in place at Tevis needing to use her back up horse, Majee. Coming out of the canyons was tough this year with Majee getting pulled at Robinson Flat. This was a valiant effort on both horse and rider as this is a tough trail from start to finish.
NEW & IMPROVED! Our website continues to get better and better! We now have a new calendar and for those of you that are tech savvy, you can sync to your phone. How cool is that?
The Rule Handbook has been updated to include the new rules that were voted in at our Annual Meeting in June 2017.
The Rookie Handbook is now on the website. This book has great information for both rookies and experienced riders who may want to refresh their knowledge.
I CAN DO THAT!  We would like to grow our mentors list. Are you an experienced endurance or CTR rider who can show a new rider the nuances of distance riding? Please contact Lindsey Campbell, our education chair at: vistalargo@aol.com to be added to the list. New to the sport? Check the list to see if a mentor is in your area.
Ewwww.  With ride season about to be in full swing, now is the time to make sure your gear is ride ready. Humidity wreaks havoc on our saddles and bridles causing mold. Check your gear for any tears or broken pieces. Wash your pads. Oil your leather. Lube your frozen zippers on saddle packs. Check girths for fit. Saddles also. Horses bodies change.
Dang, I forgot about that! Those holey tights you were going to replace? Did you? What about that worn out sheepskin cover? Electrolytes? Check out these SEDRA supporting vendors.  They have what you need!
Distance Depot: https://www.thedistancedepot.com
Riding Warehouse:  https://www.ridingwarehouse.com
Running Bear:  https://runningbear.us
Let's Ride!
The Rocking Roll Ride this past weekend was well attended by many of our SEDRA members. If our members were not competing, they were volunteering. Way to go!
The ride itself was managed well as anyone would have expected from Kim Williams and her support team. To move an entire ride location in under 30 days, prepare trails and possibly suffer financial losses due to change was a HUGE undertaking.
The farm that hosted the ride was generous in allowing us to take over their pastures that paying boarders use to give us ample room to park. Grass was knee high making the horses happy. The vet check area was under the tree canopy making use of the shade we were going to need with plenty of water available at every turn. All was appreciated!
Trails were marked well with spotters at turns, volunteers at certain water stops with cold water for riders and hay for the horses. Even an FEI crew was sharing soaked alfalfa to those who were interested.
Trails were compacted dirt roads with single track mingled in when available to do so. Nice climbs unusual to Florida with beautiful vistas if you took a moment to look. I didn't see the part where shoes or hoof protection was recommended but Indy did fine walking when we needed to. It was a tough ride in many ways and I congratulate everyone who finished. Job well done!
Scenic Spruce Creek on September 16 & 17 is offering both an endurance ride and CTR. Get those entries in!
Enjoy Autumn Color? The Skymont ride is now sanctioned! A beautiful endurance ride in Tennessee just north of Chattanooga on October 6-7 at the Skymont Scout reservation. I'd love to see a big group of SEDRA members there.
The FHA 25 on October 21-22 is a CTR, Rookie Clinic and Judges Certification all rolled into one. We're still working out the details on the certification and clinic so stay tuned for more info! The ride will be held from Doug & Michelle Shearer's farm in Ocala with direct access to the Florida Horse Park trails. Always a lovely ride, we encourage everyone to join the fun. This a great way to get a new horse started as well as new riders. There will be plenty of mentors available to help you if needed. Don't be shy, just ask!
Check out all our sanctioned rides on the new calendar at:  www.DistanceRiding.org
Join our Facebook and Group page for informative articles and latest news events.
When you have an issue or idea that you want to discuss, please email me at: SEDRAprez@yahoo.com
Until we see each other again…Happy Trails! 
Chris Littlefield