With the arrival of June, so begins your new ride season with SEDRA. Our membership year runs from June 01 through May 31. In the next week, you will be receiving your documents about our upcoming membership meeting and awards ceremony via USPS. We're waiting on the printer to finish up and then out it will go.  Renewing on-line is EASY with Paypal!
Time to CELEBRATE!
This year our annual meeting will be held on June 29 at The Dunnellon Woman's Club, 11756 Cedar St., Dunnellon, FL 34431. It's a lovely facility with a full kitchen and AIR CONDITIONED space. We'll have J & S Trailers back again talking to us about trailer maintenance and the importance of roof and flooring integrity. Triple Crown feeds will be sending their nutritionist to speak about "leaky gut syndrome."
FREE lunch is back! Please RSVP to Carol once you receive the flyer. We do ask that you bring a side to go with the meal.
We heard you loud and clear! There will be a rule change that we'll be voting on to accept. You wanted hoof boots to be allowed in competitive trail competitions for points, and I think the BOD and Rules Committee came up with a rule that will make most everyone happy. Make your vote count!
After lunch and the general business of our meeting comes what we all have been waiting for…AWARDS!!! If you have had a good year, and so many of you have, don't wait for Maris to beg you for a photo. You can email your photos to her NOW.
We'll have door prizes this year too thanks to the generosity of a few of our sponsors.
Save the date: June 29, 2019      Click here for all the scoop!
As distance riders we are always concerned about the welfare of our equine friends and go the distance making sure they have plenty of fluids, electrolytes, shade and even fans to keep them comfortable through the hot summer months and while we compete. We provide sloppy mashes of beet pulp and anything else that will get more fluids into their systems.
What about us?
It's equally important that we do the same for ourselves especially when we are competing. Becoming dehydrated not only stresses your body physically it can also stress your heart and your brain and your energy level is zapped.
Starting your ride well hydrated is key. Limit alcohol and caffeine intake. Consider higher carb, lower fat meal options the day before you compete. Drink several 8-ounce glasses of water daily especially the week before a competition.
During the competition, water may not always be enough. 4 key ingredients you need to consider:
sodium: maintains fluids balance
potassium: prevents muscle cramps
magnesium: relaxes muscles
calcium: required for normal muscle functions
There are plenty of electrolyte options out there for us just as there are for our horses. Find what you like and then use it!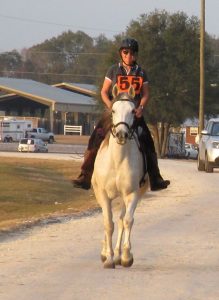 Stay cool everyone and I'll see you at the meeting!
Happy Trails!
Chris Littlefield
SEDRA President