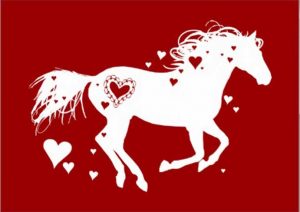 I love when February finally rolls into the year. It's no longer becoming dark before 6 PM!  For me, that's a big deal. Leaving the house before 7:30 AM and not getting home until 6 makes me a wee bit cranky when I can't see to do anything with the horses. Monday through Friday all I know is if they are standing, hungry, not limping or bleeding, and in their pasture. They are good.
So far, this season has brought some very nice weather to compete in and I seem to be missing far too many rides due to life events. However, I do have the pleasure of reading posts from so many of you who are really making this season one to remember. Partnerships are beginning to mature, reaping the benefits of the time invested. Creating a long-time distance partner takes time and sometimes a few setbacks. To all who you who have persevered, KUDOS!!
The AERC Convention is right around the corner (March 6-7) and we are excited to have it here in Jacksonville, Florida! Both SERA and SEDRA along with the Ride & Tie group and Old Dominion Rides will be ready to welcome you. For those who are there early; Thursday night will be a meet & greet. Meet your Facebook friends and riders from other areas in person!
Friday the trade show opens with all your favorite vendors. Our booths will be close to the entrance, numbers 31 & 32. Everyone will have door prizes, raffles, opportunities to join each club (we'll have a special convention membership) along with items to sell. SERA is working on a slide show which will include members of both clubs. Fantastic speakers have been lined up for both Friday and Saturday. Friday night brings us the Regional Awards and dance with local band favorite, The Snacks.  Saturday night is the National Awards and banquet dinner. We still have a few more seats available at the SEDRA table for that evening. Please let AERC know when you mail in your reservation that you want to sit with SEDRA.
We need volunteers! to help at the booth between 8 AM – 5 PM. Once you get settled, please sign up to help us out.  We'll do shifts so everyone can attend the seminars, visit other vendors and SHOP!
Registration and all information regarding the convention can be found here: https://aerc.org/convention
Membership: This year I set my presidential goal to increase our membership to 200. We are on the road to success! Thank you to everyone who has renewed their membership or recently joined. Personally, I think this is a FABULOUS club filled with knowledgeable and friendly distance riding enthusiasts. Both our web page and Facebook page offers numerous articles to help you succeed, contact information for mentors plus so much more.
Please join me in welcoming our newest club members:  Alicia Mansuetti, Linda Keplinger, Melody Blittersdorf  Nancy Sluys, Christina B Reynolds, Thomas Rajala, Heidi Perreault, Elise Rogers, Maddie Rogers, Jenna Van Ness (Jr) and Jessica Van Den Bogaert
Haven't joined yet? (WHY??)  Make sure to check out our membership special at our booth at the convention or go to our website now: https://www.distanceriding.org/rider-forms/
The 70th Annual FHA 100 also gave us 8 1st time 100-mile horses! CONGRATULATIONS!
Alicia Mansuetti / Fox Fine Tradition, Gayle King / Coup, Felicity Beech / Major Lazaro, Maris Ramsay / Open Throttle, Mya Dossat / Bhascheirra Hadeed, Aima Whitbeck / Rocky, Chris Littlefield / Wineglass Ripple and Heather Reynolds / CCA Good Omen.
Someone recently posed the question: What is harder to complete, 1 day 100, 2 day 100 or 3 day 100? All have their own challenges but if you ask any rider of a 3 day 100 CTR they will agree with me that the 3 day is hardest. Trying to keep your horse sound and free from injury or soreness for 3 days can be an arduous task.
The 70th Annual FHA 100 was well attended with 18 originally entering the 100. All 3 days had something for everyone including AHA Regional Championships, IDR's and per day mileage options. Ride and Tie teams competed in the 30 mile, 25 mile and 10 mile options. Members Deb and Allison Morse were 1st time R&T competitors with their horse Stolen Truck aka Minx. Minx was a racetrack rescue that has come a long way in 2 years! These teams deserve an applause!
The trails were in fantastic shape. A prescribed burn earlier in the week had Doug scrambling to remove markers fast and then replace once the fire subsided. He did a great job keeping us off long stretches of deep sand and keeping trails technical and fun. Doug puts forth a lot of effort to make sure the trails are in good shape. We can't thank him enough.
We also received generous donations of goody bags from Triple Crown for the 100 milers filled with snacks and saddle soap crafted by Higher Standards. Each scent is hand crafted and made in N Florida. Donations also included a celebratory cake, MANY bottles of wine and cheesecake Saturday night. Ed Greene also brought his microwave so we could heat leftovers while waiting for the results Sunday. More bags were donated by Deborah Walker and feed coupons from Carol Thompson.
It goes without saying that a ride this involved (or any ride for that matter) can't be successful without volunteers and great support staff. Thank you to everyone that made this a fabulous weekend for all who attended.
LETS RIDE!
02/29     Take No Prisoners Kings / Mountain State Park, South Carolina This ride is FULL! Please contact the ride manager if you would like to be put on a wait list. This ride fills up every year. Next year make sure to sign up early!
03/01    River Rise CTR / High Springs, FL This location is perfect for 1st time distance riders with well-marked trails, a nice camping facility with shower and bath house and a 20 stall barn (1st come, 1st serve). Come early and go kayaking or shop the quaint antique stores just a few minutes down the road. You must reserve your camping spot directly with the park rangers. See entry for details.
03/12-14 Fun in the Sun (FITS) / Williston, FL / Goethe 3 days of riding available. Ride one or ride them ALL! Depending on the weather, trails can be wet, wetter or dry. Camp is at Val's with plenty of parking for all.
03/15 FITS 25 mile and 10 mile intro DRIVE CTR / Williston, FL / Goethe It's been a long time since we have had a CTR for our carriage drivers. I am thrilled to see this on our schedule and hope that those of you who drive will support this ride. https://fitsenduranceride.com/index.html for more information.
03/27-28 McCulley's/ Jasper, FL   This has become a local favorite for so many reasons. Beautiful trails paralleling the Withlacoochee River, stalls, plenty of parking and great dinners and camaraderie at the end of the day. Once again Penny will be offering a 2 day 100 for those who want to do the miles but not in one day. All mileages available both days.
03/28 Leatherwood/ N. Carolina   I am thrilled to have this ride on our calendar. You will need hoof protection for this ride. It's been a few years since I have been there but I still remember the creek crossings, the rolling pastures, the mountain views and the climbs and descents. It was a one of a kind experience. The Carolina BBQ at the end of the evening hit the spot! Leatherwood is also a vacation destination. Go early and visit Boone, hike or ride the multiple trails, or just sit back and relax. https://www.leatherwoodmountains.com/
Visit our webpage for all sanctioned rides here: https://www.distanceriding.org/sedra-events/
Happy Trails! Chris Littlefield, SEDRA President