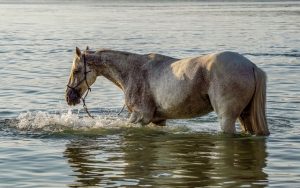 Summer is moving along and many of us can't wait to start competing again! The SEDRA ride calendar is already full of multiple rides for you to choose from.
Now is the perfect time to get your horse, your trailer, your tow vehicle and yourself ready for travel and competitions. I've emptied and cleaned out my trailer (how do I gather so much stuff??), checked tire pressure and wear, then pressure washed it. I'll have the hubs/bearing lubed and then it will be road ready.
My faithful truck received new brakes, new shocks and an oil change with a new air and fuel filter. I have a tire that isn't keeping air so that's on the list to have looked at. Then to the mechanic for its mechanical check-up. For more information and ideas on what you should be checking before heading out on the road, US Rider checklists. Hopefully taking care of these tasks now will keep me from breaking down later.
My horses have been worked lightly over the summer, and we'll start picking up the pace late August. I'll check their tack to see if anything needs to be replaced/repaired. I'll also check my electrolyte supply and any other items I only use during competitions.

My own fitness routine will become more involved. I slack in the summer because frankly, in Florida it's too dang hot to breathe let alone work out.
MEMBERSHIP
Thank you to everyone who already renewed their membership! If you haven't renewed yet, please do soon! We hate for you to miss mileage credits and associated awards because you forgot.
Rule Change
Current SEDRA Members: Watch your mailboxes (snail mail) for a letter from SEDRA about our drug rule amendment proposal. Our overall policy remains the same however, we'd like to include an addendum on how SEDRA will respond to positive tests and who would be penalized if a positive test occurred.
Our goal is to have the rule enacted (or not) this season, so please send your vote back as quickly as possible.
AERC CONVENTION
The 2020 AERC Convention will be in Jacksonville, FL March 5 – 7, 2020. Stay tuned for more information as the event nears. You can reserve your room now and I'd hurry because I do believe the bigger rooms with a view are going, going, gone! Bring a friend and share the experience and the expense. AERC always provides a great line up of informative speakers. SEDRA will have a booth alongside SERA. Flamingos seem to be the theme. We'll follow suite with a novelty giveaway to go with the theme, along with other opportunities to win prizes. We'll also need members to help man the booth and encourage riders to join SEDRA.  You can find more information here: https://aerc.org/convention
TEVIS WATCH!
August 17th just under 200 riders will attempt the granddaddy of all endurance rides under the August full moon. Only 50% of them will get to the finish. It takes a good horse, a confident rider and lady luck to get you through. We have a couple of folks we know and love from the Southeast that are heading that way. More information is here: http://www.teviscup.org/ and on Facebook under Tevis Watch Party. Look for Heather & Jeremy Reynolds, Sarah Hunt, Angie McGhee (don't tell her mama!) and Suzanne Solis, to name a few that I know.
Upcoming RIDES!
We're ALWAYS thankful to the ride managers who continually support SEDRA by sanctioning their rides.
Iron Mountain Jubilee / August 23-24 in Cripple Creek, VA. starts our ride season with a beautiful, well managed ride. Nancy Sluys does a fantastic job with the help of many volunteers. This trail is no walk in the park but it is worth every foot step.
Scenic Spruce Creek / October 12-13 at Doris Leeper State Park, FL Moving this ride to October brings cooler weather to compete in. Trails are flat, some sand maybe a bit of water. We'll be riding near multi-use trails offering sightings of hikers and bikers. The parking is open with plenty of room to sprawl if you need to with horse water available. Day 1 offers the endurance competition while day 2 offers a CTR. It tends to be a small ride making it ideal for new people to the sport.
Hunting for Bigfoot / October 19 in Mississippi This is a new to us ride located in the DeSoto National Forest. Legend has it that there have been Bigfoot sightings over the years hence the ride name.  Beginner friendly. Great place for both new riders and new horses. Looking to move up in distance? This is the place to do it with the 100 mile ride including mentors to help you succeed. Trails are a combination of single and two track on permanent horse trails. Very little sand and barefoot friendly. (100 milers may need hoof protection. Last 2 loops are on the road for safety reasons.)
Biltmore Fall Ride to Benefit Hope for Horses / October 26 at the beautiful Biltmore Estate in N Carolina. Built in 1895, the Estate trails promise a challenging ride along the French Broad River and over rolling hills and low mountains.  They recommend that horses have hoof protection.  Breast collars/cruppers may be helpful too.  Each loop will circle back to a central vetting area adjacent to the main camping area.
FHA Clinic & 25 CTR / October 26 – 27 in Ocala, FL Doug and Michelle Shearer will host the event at their farm which is conveniently located next to the trails we'll be using for the CTR. This is a clinic designed for new riders to the sport.  Day 1 will offer seminars from experienced riders on how to compete and what it takes to do so successfully, how to present for the vet and trail judge with lunch provided. Take a tour of trailers and the latest containment systems for your horse. Day 2 is the actual CTR which will include an introductory ride too. If you know someone who is interested in distance riding, bring them here!
If your feed store carries the Horse & Pony newspaper, pick up the August edition. An article about the creation of the Florida Horseman's Association along with the history, the upcoming clinic and 3-Day 100 is inside. Share with anyone you think may be interested in distance riding please! You can access the on-line version.
October is full of sanctioned rides to pick from! Choose 1 or go to them all! All the information you need for these rides and others are available on event calendar.
Hey CTR riders! (and everyone else too). We have a contest for you thanks to the brilliant thinking of Carol Thompson.
For far too long we have a scant few CTR competitions, but our ride managers are trying to incorporate more onto the calendar. Let's support their efforts by attending as many as possible!
CONTEST!
The 2019 -2020 Competitive Trail Challenge
PLATINUM – Same horse and rider team completing all SEDRA sanctioned CTRs, maximum distance offered
GOLD – Same horse and rider team completing all SEDRA sanctioned CTRs, ANY distance offered
SILVER – SEDRA registered horse with any SEDRA member rider completing all SEDRA sanctioned CTRs, maximum distance offered
BRONZE – SEDRA member rider with any horse completing all SEDRA sanctioned CTRs, maximum distance offered
**Must complete ALL CTRs that are sanctioned with SEDRA for the current SEDRA year (June 01, 2019 – May 31, 2020). AWARD recognition will be announced at the SEDRA Annual Membership Banquet. Certificates will be presented to all who qualify. You can also have an item you provide embroidered at no additional charge. We'll have forms available soon for you to keep track and to hand in at the end of the season.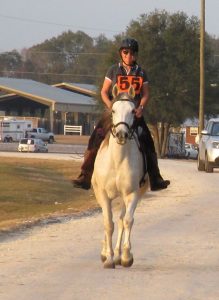 Let's make our 35th Anniversary year the best ever TOGETHER!
Happy trails,
Chris Littlefield, President