The holiday season is upon us. City streets and neighborhoods are lit with twinkling lights; neighbors and friends gather, sharing good cheer. Our horses are woolly and fireplaces have been lit. Cocoa and brandy warm the soul.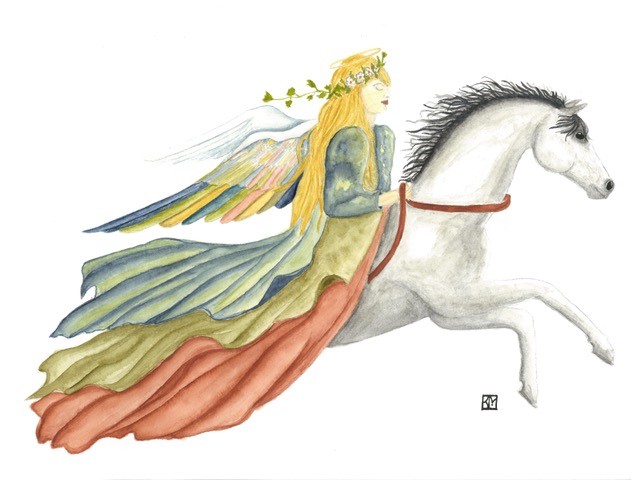 A BIG WELCOME to our newest members; Katie Bumgarner, Dean Miller, Jerie Friday, Karen Songdahl, Guerry Auerman, Mary Miller; Junior, Lyla Huggins and returning member, Jessica Mooney.  Can't wait to meet you and see you in ride camp and on trail!
For this newsletter I thought I would do something a little different. Below are some of my favorite things. Suggestions also include those from a few of the SEDRA BOD members. The list may be helpful to share with someone who doesn't know what to get the endurance enthusiast.  ☺
My Favorite Things
SEDRA LOGO SHIRTS – sedraprez@gmail.com $12-20
We have various styles, sizes and colors offering an option for everyone on your list. Polos, cotton blend tees, tanks and Cool Dri options. From SM to XX LG, we've got you covered!  As a special incentive, for every *SEDRA shirt purchased in December, we will donate $1 of the purchase price to the Trails Fund.
*I'll have the entire collection at the Goethe Benefit ride December 14-16
DESITIN, A&D Ointment, Gold Bond Powder – Various retailers Under $10
If you have ever suffered an "owie" in a precious portion of your anatomy after riding in the wrong under garment or your horse has developed a girth gall, Desitin or A&D soothes the rawness quickly. Starting the ride with a good blast of Gold Bond powder helps prevent friction from the start of the ride.
SERENITY ACRES GOATS MILK SOAP – www.serenitygoats.com/ $ Prices Vary
I LOVE this soap and all of Julia's skin care line. Serenity Acres Farm soaps are made with fresh goat's milk, food grade, high quality oils (olive, coconut and palm oil) and essential oils or phthalate-free fragrances. The "magic" imparted by using goat's milk as a base for soap is that fresh goat's milk pH closely matches that of human skin. The natural vitamins and nutrients in goat's milk nurture your skin as it is cleansed. You feel clean, with soft, silky skin.
EPONA TIGER TONGUE SPONGE – www.Statelinetack.com Under $10
This amazing sponge gets the CRUD OFF. Whether you have access to a hose or just a bucket of water, this sponge gets the dirt and grime off your furry beast without breaking a sweat.
STARLIGHT SUNGLASSES – www.thedistancedepot.com Under $15
Light and comfortable, you don't even know you have them on. Great eye protection too.
PERFORM & WIN ELECTROLYTES – www.ridingwarehouse.com  Under $20
There are MANY, MANY electrolyte options available but this is the one my horses prefer and eat willingly. I top dress it on their feed or mix in a dosing tube along with applesauce, date syrup and Nutrient Buffer.
PEAK BALANCE POULTICE – www.buy.peak-balance.com $25 – $100
I LOVE this poultice! A blend of clay and essential oils, it works to prevent or ease leg swelling. Great to use after a ride. I have also used on sore muscles (mine and horse). It smells wonderful and works even better.
NUTRIENT BUFFER – www.nutrientbuffer.com and various retailers $55 per Gallon
This liquid digestive aid is 100% natural and works to restore/retain stomach function during stress, ulcers and environmental factors. The two main ingredients are calcium & magnesium.
I even dose myself when I have indigestion. Tastes horrible, but it works FAST!
OUTLAST BY PURINA – Various Retailers $40 per 40# bag
This is a pelleted product developed by Purina to assist with hind gut issues. I saw improvement on the horses I use this on within 10 days. I don't leave home without it.
You can go to their website for more information: www.purinamills.com/horse-feed/campaign/outlast
RENEGADE HOOF BOOTS – www.renegadehoofboots.com/ Under $100
I am my farrier as many of you out there are also, but I don't shoe. I found out how much I liked this boot when I went to Tennessee and it was a little bit rockier than I came prepared for. Needing shoes on the back, friends came to the rescue with a spare set of Renegades. Indy never took a bad step, he moved fluidly and THEY STAYED ON! They are easy to put on/take off and the customer service folks are great to work with. Have a question? Give them a call!
HI-TIE TRAILER SYSTEM – www.thedistancedepot.com $350 (ON SALE!)
A reasonably priced option that provides a 12 x 12 area within 5 minutes arriving to camp. Swing the arm out (that is secured to the side of your trailer), secure with pin, add your line, attach horse. WAH-LAH! I have been using mine for 14 years. LOVE IT!
ROFLEXS FENCE SYSTEM – www.Slypnergear.com $1200 (parts available separately too)
This is the most extravagant on my list. This self-contained portable electric fencing that provides a safe enclosure in 5 minutes. The posts are metal with the electric tape held within. I do not own this fence system but have been fortunate to have the use of one at a few rides.
There are many other items I love such as my Tipperary helmet, Kerrits riding pants, Beta/Biothane gear, a good horse, red wine and great friends like all of you.
The gift of love. The gift of peace. The gift of happiness. May all of these be yours during the holidays and always…
Merry Christmas!
Chris Littlefield, SEDRA President