Happy New Year!  I'm looking forward to what the new year will bring with optimism that it will be good, even better, great!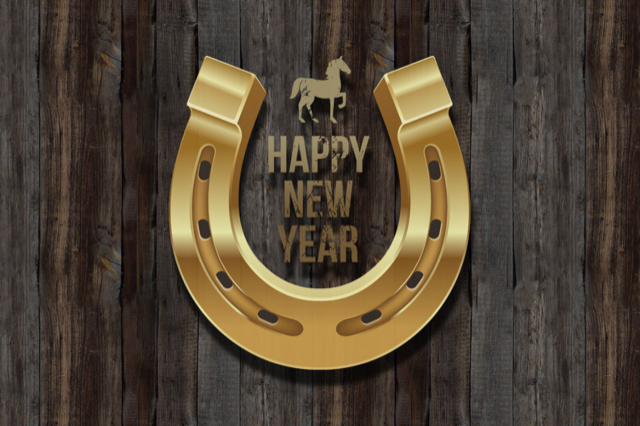 There is always a little hitch now again to remind us that life isn't perfect and making plans more often than not is a lesson in futility.  We plan, God laughs as the saying goes. Cheers to you all and I hope that your resolutions and plans stay on track (or should I say trail?).
A BIG WELCOME to our newest members: Deb Deshon, Jerie Friday, Sharon Knight, Karen Songdahl and Susan Graham
Thank you to everyone who purchased shirts at the Goethe Benefit ride! I still have PLENTY! The vintage shirts are now limited to smalls in various colors. I have both long sleeve and short sleeve available.
                ACCOLADES! APPLUASE! WHOOP-WHOOPS!
US Equestrian (USEF) is pleased to announce that Cheryl Van Deusen has been awarded the Maggy Price Endurance Excellence Award in the discipline of endurance.
The Maggy Price Endurance Excellence Award is presented to the top U.S. senior endurance rider. This award is sponsored by Gold Medal Farm and Larry and Valerie Kanavy, in memory of Maggy Price. Price was the 1992 FEI World Endurance Championship silver medalist and was instrumental in the development of international endurance in the U.S.
Cheryl Van Deusen is currently ranked in the top 10 on the FEI Endurance Open Riders World Ranking list. Cheryl's characteristic consistency and dedication shown through again throughout 2018, ending the competition year at the Broxton Bridge CEI3*-160 and CEI2*-120 where she placed fourth and second, respectively. Cheryl also rode for the U.S. Endurance Team for the FEI World Equestrian Games™ Tryon 2018 with Hoover the Mover, her 15-year-old Arabian gelding. This impressive combination currently tops the FEI Endurance Open Combination World Ranking list.
This is the second consecutive year Cheryl Van Deusen has won the Maggy Price Endurance Excellence Award.
Cheryl has been an integral member of SEDRA for many years. She has supported our club with her membership, introducing new riders to the sport and having them become members, volunteering, sanctioning her rides with us and has aided in several emergencies. We are proud to have Cheryl as a member! When you see her at the next ride you attend, please take a moment to congratulate her.
We had 3 SEDRA members complete their 1st 1 day 100-mile ride at the Gallop on the Greenway.
Allison Morse and her mare Emi
Caren Risley and her gelding Ollie
Denise Secino and her gelding Jack.
Please make sure to congratulate these ladies on a job well done!
AWARDS!
Now that ride season is in full swing, please make sure that you have signed up your horse for mileage credit. The form is located here: https://www.distanceriding.org/sedra-forms/sedra-equine-lifetime-nomination/
Also, if you see someone making a difference in our sport, please take a moment to nominate them for one of our awards. We have Special Awards as well as Hall of Fame awards. The criteria for each award along with the nomination forms are available on our website:
There are so many wonderful participants in our organization that deserve the recognition from their peers.
RIDES!
The Winter Gallop at Etoniah is right around the corner on January 12 & 13. Vicky Thompson and her team of volunteers have been working tirelessly despite the rain to get the trails and camp ready for us. This is a great trail to try your 1st 50 on or your 1st 25.
Broxton Bridge follows on January 25 & 26th. Cheryl Van Deusen has been putting on this ride for several years and is a long-time supporter of SEDRA. The trails are groomed and the facility lovely. FEI riders from around the world attend vying to represent their country in the next sanctioned event. This is another wonderful opportunity to see how world class riders compete.
The 69th Annual FHA 100 will be at the Florida Horse Park January 31 – February 3. Carol Thompson is the ride manager this year and has offered a shorter ride distance every day of competition. If you don't think you or your horse are ready for 3 days and 100 miles, please support the ride by riding one of the shorter options available. We'll be using the same trails from the Gallop on the Greenway.  The AHA National Championship also will be held during the course of the ride. A lot of opportunities for every rider to compete. This is the longest running distance ride in the SE. At one time, the ride would sellout a year in advance. See past photos and articles on the FHA Facebook page.
We have a new to us ride on our calendar! I am excited to announce that the Take No Prisoners ride at South Mountain, NC has sanctioned with us. I have heard nothing but positive attributes about this ride. The management is great and how could it not be with Vance Stine and Tim Worden in charge. The trails are beautiful. PLUS they are offering a Ride and Tie! If you can go, please do! Ride date is March 2nd. Read more about the ride on our website calendar page.
Aren't ready to ride or can't ride?  Please consider volunteering. It's a great opportunity to learn more about our sport and the ride manager will appreciate you very, very much.
RIDE RECAPS!
The Southeastern weather patterns have been a ride managers worse nightmare as of late.
With that being said, I want to extend a huge applause and accolades to Jo Harder and her team on accomplishing the near impossible; moving all ride dates back a day to avoid the bad weather that deluged the Goethe Forest where the Goethe Benefit Ride was held. That Friday which originally would have been day 1 of the 2-day event received between 7-9 inches of rain. Goethe trails are known to have some wet areas but the Friday deluge made the majority of the trails more kayak friendly than endurance friendly.
Jo successfully arranged for the event to be held Saturday and Sunday instead of Friday and Saturday. That meant she had to get approval from AERC, rearrange vets, volunteers, caterer, photographer and all the riders who entered. A daunting task indeed! Then to worry about cancellations if not for the weather but the date changes as well. I'm exhausted thinking about it.
As a rider, I can tell you it appeared to run like it was the original plan. I was certainly pleased to see how many riders toughed out the Friday weather to compete on Saturday. Camp was full of trailers, horses and crew with more trailers arriving on Saturday for the Sunday ride. Trails were well marked and everyone made time where they could and sloshed through the canals when they had to. Most are sand bottoms, so it was safe.  None of the resident alligators were camped out on the trail but we did get to see a mud puppy which looked like a very fat snake when we first approached.
Lots of laughing whenever someone got splashed and splattered with mud. Horses that were not big fans of puddles were certainly experts by the end of their ride.
Once again, thank you to everyone who helped make this ride a success despite the circumstances.
The Gallop on the Greenway for me was a BLAST! We had a new camp location in the heart of the FL Horse Park where electric, stalls and bath house facility were available. Ride manager Doug Shearer had options for everyone to ride on all 3 days of the event. He provided an FEI ride, IDR ride, a night LD ride on Saturday along with the day LD ride on Saturday, along with 50, 75 and 100 mile ride options.
Good Lord, Doug must be CRAZY or he likes being stressed to the hilt. Either way, the riders came! The rain stayed away although the humidity was the air we could wear. UGH. The Horse Park trails were varied with sand, roots, deeper sand, more roots, a land bridge over the interstate and lots of opportunity to enjoy the beautiful landscape that the trails are built upon. There were plenty of vets that kept the lines moving. Shelley Scott Jones shared that they hung over 400 fairy lights that twinkled like little stars once the sun fell.
I chose to ride the night LD ride on the good horse Wineglass Ripple. The ride began at 4PM with 10-12 riders starting. I rode with Maris and her young rider Shawn. All 3 horses and their riders had a great time coming in off the 15 mile loop in 2 hours. We all passed the vet check and with a 50-minute hold were back out just after 7pm. This would be a first time for all 3 horses to navigate a trail in the dark (and it was really dark). Do they sell full moon lights? ☺ The horses never faltered and were always ears up and forward even if we had no clue where the trail was at times. Once close to camp we knew we were on the home stretch but took it cautiously as part of this trail we hadn't done earlier in daylight.
Back in at 9:15pm and all 3 horses pulsed in at the same time giving us a tie for 5th place. Ripple continues to amaze me with his go forward attitude and his absolute love to eat and drink. His card was all A's with a vet commenting that his gut sounds could be heard walking up to her. He camped like a dream as well. YAY!
If Doug recovers and manages the ride again next year, please put on your calendar to attend.
Happy Trails!  Chris Littlefield, Sedra Prez