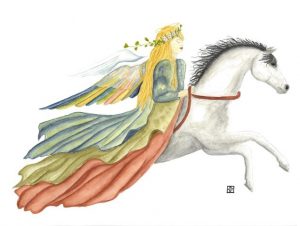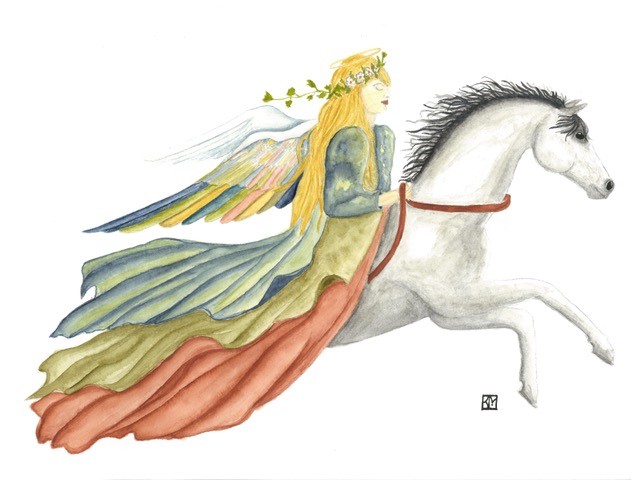 Happy Holidays!  
Finally, the Southeast is enjoying some cooler weather. The horses are frisky and their hair is fluffy. In North Florida, we get "crunchy grass," which looks like a thin layer of snow on the ground through the early morning hours.
With the cooler weather, calorie intake may need to be increased for some horses along with supplementing their feed with salt if you don't already and making wetter mashes to increase their fluid intake. Soaked beet pulp is a great addition for increasing both moisture and fiber. If you are feeding hay, throw an extra flake or two down during those colder than usual periods.
Welcome new members! 
Jennie Armstrong, Melissa Cavallini, Kent Cavallini, Ava Cavallini, Jennifer Cunneen, Shirley Manning, Tina Patton, Renita Phillips and Mallory Trepp.
Please make sure to take advantage of our articles on the website and our Facebook page where you can ask questions on just about anything! Mallory, I promise I will remember your name some day! Thank you all for joining! Please don't forget to sign up your horses too so they may receive their mileage recognition and awards. Click here for the link to our Equine Lifetime Nomination form.
Be a friend / Make a friend
I have met some of my closest and dearest friends at rides while out on the trail or when they were camped next to me. The next ride you are attending and camping at, introduce yourself to your neighbor. Sit next to someone at the ride meeting/awards that you don't know or looks new and lost and introduce yourself. I encourage ride managers to ask new riders to introduce themselves so experienced riders can meet them and help them if needed. It's a great way to meet your next best friend and build our community. Plus, you have new people to share all your ride stories with! If you ever rode with me, you know I have MANY!
Board of Directors Changes
I am sad to announce that Doug Shearer has resigned from our BOD. He was an integral part of our Board and he will be missed. I'm happy to report that Vickie Thompson has accepted my appointment to replace Doug in this vacated position. We all look forward to having Vickie on the board!
AERC Drug Rule Changes for 2019 
CBD oil is EVERYWHERE, and as of 2019 you can also find it on the AERC banned substance list. Please note that SEDRA follows AERC drug rules. You can find the updated list of what is acceptable, banned and threshold levels here: AERC Drug Rule Appendices Oct 2019
SafeSport/ Ride Management Reminder:  Each AERC sanctioned ride beginning in the 2020 ride season (NOW) will have a designated SafeSport ride management representative who has passed the SafeSport on-line training prior to their ride. For more information, check out this link, SafeSport and AERC. Most of your SEDRA BOD are SafeSport trained!
My Christmas List of Favorite Things
Last year I shared a list of items I use in the barn or at a ride that I have come to rely on. I am continuing the tradition by including a list again this year. Some may be repeats while others are new to the list.
Tiger Tongue Sponge: This little gem is a repeat and for good reason. Anything that can get crusted on dirt, sweat, wooly hair off any of my horses without me sweating heavily is worth its weight in gold. New member Mallory shared this marvel of sponges with me last year and although I can never remember Mallory's name, I can never forget this sponge! There is a new addition to this sponge line with the April Power Shower Tiger Tongue Sponge. Both are under $10 at various retailers.
Shires Equestrian Hot/Cold Relief boots: This versatile leg boot is super easy to use with gel packs that secure with Velcro. Just soak the gel pack in ice cold water or freeze, apply to the boot and strap on the horse leg with the Velcro straps. Can also be used warm as the name suggests. They are cost effective compared to others on the market and aid in reducing swelling after strenuous exercise. Jeffers – Hot/Cold Relief Boots under $65 for the pair.
TREK IT saddle bag: I won this well constructed bag at the Chasing Bigfoot ride and I thrilled with it! No frozen zippers, no bounce and a strap to hold an electrolyte syringe in place. Jaime Reid Ruff makes the bags. Find her on Facebook.
Roflex Pen: This is the second year I've listed this pen. It will likely make every year I do this. I didn't own one last year but I do now and I LOVE IT. Is it the easiest pen to set up and take down with an expansion of 20+ feet per tape? Yes! Can you buy parts separately? Yes!  Will others wish they had one too? YES! German technology has the electrified rolled tape within the post. Set up, pull the pin and voila, you are done.  Only available through Slypner Gear. www.slypnergear.com
Fruit of the Loom Breathable Mens Boxers: When member Roxanne Ciccone shared at the new riders clinic the comfort of mens underwear while riding, several people thought she may have hit her head one time too many. This girl decided to trust a rider with 14,000+ miles and purchased a pair to put them to the test. You know what? I may never wear women's underwear again! These little gems don't squeeze your waist, they don't cause butt rubs and your lady land is so very happy. They come in two lengths. I prefer the longer length while competing. Item may be found at local retailers for about $10 for two.
Luci Solar String Lights:  The inventors at Mpowerd put the power of the sun on a string. A string of lights that is! This solar string has an 18 foot cord with 10 lights with 100 lumens. If the sun isn't up to its sunny self, you can power up on your mobile charger. We have used the lights a few times now and they light our camp perfectly. Mpowerd also sells other solar lights including an inflatable solar light. www.mpowerd.com
Gatorade Power Chews: I am not a fan of Gatorade the drink but these little power chews I am! These bite size chews taste good, provide me with energy when I start to feel sluggish and replace electrolytes. They fit in my saddle pack and are easy to pop into my mouth while trotting down the trail. Under $2 for a pack. Available on-line and various retailers.
B Gone White Line Treatment: Member Brooke Little shared her experience that this stuff works! In the SE your horses hooves tend to be in wet conditions often. Humidity, rain, dew, and mud can wreak havoc on the sole integrity often causing white line and thrush. I have one horse that seems to be more prone to white line than the others, so I purchased a tube. You know what? It does work just as advertised! At $26 a tube, it offers multiple uses and is worth every penny. I have found that once I applied, it stayed on. Use as directed/needed. Available at various retailers and on-line.
Life Data Hoof Clay: I won a tub of this and finally had a reason to use it. I applied to the crevice around the frog to work on some thrush that was starting to develop. Twenty-four hours later, it was still in. The case of thrush wasn't bad and I liked that it stayed in place for a long period of time. Available at various retailers and on-line
Renegade Hoof Boots: Still my favorite boot three years now. Member Deb Morse saved me at a ride offering me a spare pair she had. I was skeptical at first, but these boots have stayed on through rocks, sand, water and mud. They haven't left any rubs and I don't feel my horse is working any harder with them on. In fact, I feel like they are moving better. The parts are all replaceable and the boot is long lasting. Made in the USA! Available at www.renegadehoofboot.com and www.thedistancedepot.com If you aren't sure of what size or style to purchase, give them a call. They are very helpful. Prices vary.
Flex Boots:  Board Member Jo Harder loved these boots so much she became the US distributor. Here's a link to the FlexBoots webpage:  www.flexhoofbootseurope.com Contact Jo directly or speak to her at the upcoming Goethe ride.
SEDRA Shirts and NEW cooler bags! We have multiple styles, colors and sizes of shirts to satisfy all our members! The Cool Dri shirts have become a member favorite. The cooler bags have been selling FAST! I only have 4 left! They make great shopping bags which they were designed to do but they also make great crew bags too. I'll have both available at the Goethe ride. All items $12.
        It's a beautiful day to RIDE! Look for the NEW SEDRA banner at the following rides. Here are the latest sanctioned rides through early February. If you don't see a ride you attend on our calendar on the website, please contact the ride manager asking them to sanction. Sanction forms are here!
12/14    Goethe Benefit: A tradition started by Helen K 20 years ago; Jo Harder has taken it on with gusto. Last year's inclement weather we all hope will not be repeated! This ride offers well marked trails through the Goethe Forest on jeep and single tracks with all holds in camp. Bath houses, plenty of water, electric hook-up, stalls…what more can you ask for?
12/27-12/29   Gallop on the Greenway: The Florida Horse Park's varied trail system gives riders plenty of opportunity to escape the mundane of flat. Oh sure, there is some flat and sand (we are in Florida) but there are also climbs, rocks, spider kingdom and riding over the interstate. Doug is offering a pioneer ride, a night ride (so much fun and a great way to build trust with your horse) a ride and tie and different mileages every day of the event. Be a pioneer, be a night rider, be a runner just don't not be there! Stalls, electric hook ups and plenty of water available.
1/10-1/11   Etoniah Winter Gallop: If one judges a ride by management, vets, trail marking and grilled cheese sandwiches, well this ride is for you! Vickie Thompson and her team do a stellar job to make sure we have the best ride possible. This is primitive camping with plenty of horse water.
1/24-1/25 Broxton Bridge SE Fund Raiser: I haven't made it to this location yet but from what I hear the groomed trails, parking and hospitality are over the top. Please support this fund-raising ride if you can. If you are interested in learning more about becoming qualified for FEI events, contact ride manager Cheryl Van Deusen.
01/31-02/02   70th ANNUAL FHA 3-DAY 100:  70 years! The 2nd oldest CTR in the country. Once again, the Florida Horse Park will be home base for this event. Electric, water and stalls available. There will be a banquet Thursday night. Multiple mileage options daily for those who aren't quite ready to commit to 100 miles. There will be a ride & tie division. There will be fun had by all and the draft horses are back under the covered arena. Don't miss this milestone event!
If you can't ride due to any reason please try to volunteer. There isn't a ride manager who wouldn't love the extra help. It's also a great way to learn more about our sport and when slow, possibly ask the vets questions. It's like free continuing education!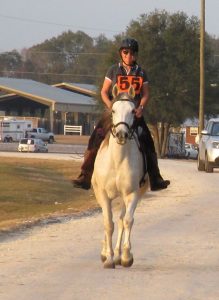 Wishing all of you a glorious holiday full of faith, friends, family and good cheer!    
Happy Trails!
Chris Littlefield
SEDRA President