The 35th Anniversary  year of SEDRA is in full swing or should I say GALLOP! Our members are hitting the trails and are glad to see the beginning of cooler weather.
Scenic Spruce Creek was this past weekend where five inches of rain caused a little reroute, making the deep sandy trails less deep and do-able. Add lower humidity and a nice breeze and those that attended both the endurance ride and CTR had a good ride.
Speaking of reroutes, sometimes life throws one at us that keeps us from doing what we truly enjoy.  Maybe your best horse can no longer compete, illness, family, work or a combination of all and you find yourself going "why me?"
With time, something good can come out of something bad.
Your new horse is a dream come true and is giving you the ride of your life. You beat that illness and are back riding. You landed the dream job.
Whatever life throws at you, recover, rejoice and ride on. We'll be here waiting to cheer you on.
Welcome to our newest members, Mikelann Renwick  and Cindy Nelson!
And a BIG THANK YOU to those of you that have renewed your membership.
All our membership forms for you and your horse are on our website: www.distanceriding.org. In fact, our website is loaded with valuable information with each tab you click. We do our best to keep informative articles about all things distance riding. When you have a question, I encourage you to look at our website.
Hunting for Bigfoot is this coming weekend in the DeSoto National Forest in Mississippi. They are the host for the inaugural Mentor Challenge. Christo Dinkelman had an idea that if there was a mentor to get riders through a 100-mile ride, that they would come.  And they have! Currently there are 35 entries for the 100 with a good mix of experienced 100-mile riders and rookies.  Ride manager Jane Lee has promised the trails are marked for the blind and lit up like a runway. For first time 100-milers, that does sound comforting. Add that they will have volunteers to take care of you and your horse, mentors to keep you steady and confident and you have a win-win situation. PLUS, the awards are over the top! Good luck to ALL!
If you aren't quite ready for that level of mileage or are ready to learn more about distance riding in general, we have the Distance Riding Clinic and FHA 25 on October 26-27 in Ocala, FL. There will be several speakers, hands on demonstrations, an introductory ride and a 25-mile CTR. There will be plenty of experienced people to help you throughout the weekend.
Boggy Creek is November 2 and as of this writing only has 9 spots open before they reach capacity. This is a beautiful ride for a wonderful cause. Get your entry in PRONTO!
Have you participated in a ride that wasn't sanctioned? Don't lose credit for your miles! Send a copy of your completion card and $5 ($20 for the year if you do more than 5) to Carol Thompson. Email SEDRAprez@gmail.com for her info.
For more information about any of our sanctioned rides, please visit our website: https://www.distanceriding.org/sedra-events/
To quote Ashley, an eventer who competed at a CTR in the past year "You have to try distance riding, it's life changing!" Ashley, we couldn't have said it any better.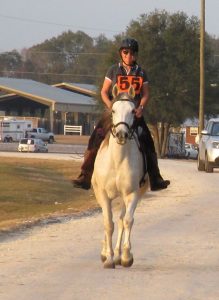 Let's make our 35th Anniversary year the best ever TOGETHER!
Happy Trails!
Chris Littlefield
SEDRA President