In Florida and most of the Southeast, this has been one hot September! My horses have received plenty of heat training. No matter how early we get out and try to speed through a 10-mile training ride, the humidity just slaps you up one side and down the other as soon as you untack. We're thankful for trail heads with water spigots and shade.
Lately the merry group of riders I train with have been training in the part of the Apalachicola Forest where the trailhead is next to the bike trial. I noticed that when the cyclists are done with their ride, they grab a Gatorade or similar.
Me? Give me a cold beer. ASAP! Is 10am too early? I think not!
The start of September also gave us another hurricane on the same weekend as the past three years. Fortunately for all of us in Florida and other SE states, the Cat 5 prediction became less severe as time dragged on.  While we were spared, the Bahamas were brutally beaten.
For anyone who witnessed the damage that Michael caused to the western coastal towns of Florida (who are still trying to pick up the battered pieces) you can only wonder how the Bahamas will recoup and rebuild with their limited resources.  There are three organizations that the NY Times and others endorse if you would like to support the efforts with a financial donation:
The American Red Cross: redcross.org/donate/hurricane-dorian-donations.html
Mercy Corps: MercyCorps.org/donate/send-emergency-aid-families-bahamas
Grand Bahama Disaster Relief: gbdisasterrelief.org/donations
A big welcome to our newest member Mikelann Renwick. We look forward to meeting you at a ride soon.
SEDRA RULE CHANGE/ APPROVED!  About six weeks ago, we mailed current members a ballot regarding the SEDRA drug rule policy and amendments the current BOD recommended. To recap:
Rule Change Ballot – August 2019            
Include the paragraph:
When a test is returned with a positive detection of an illegal substance, the Drug Committee chair will review the test findings with the laboratory technician and 2 SEDRA approved Veterinarians. To assure anonymity and rights of the competitor, the name of the equine and horse owner will not be disclosed during the review. Once the review has been finalized the Drug Committee chair will present their findings to the President. At that time, the President will submit a letter to the equine owner/lessee with the outcome of the test and our stance on the results. This review shall be completed within 30 days of receiving.      AND 
Amend the word "Rider" to "Owner/Lessee"
The votes have been counted (54 were returned) with a unanimous vote in favor for the updated paragraph. Of the 54 returned, 4 votes were against the word change from "Rider" to "Owner/Lessee".
Thank you for your votes! We will implement the revised rule as of September 2 and will update the rule book on our website accordingly within the next 30 days.
You don't have to be great to start, but you have to start to be GREAT! -Zig Ziglar
Are you ready to ride?
Join me and several others in Mississippi in the middle of October as we go Hunting For Bigfoot through the DeSoto National Forest. This ride is also offering a 100-mile "mentor" ride option. 1st time 100 milers, or those who may want a refresher course will be paired with experienced 100 milers to make for a great experience. Trails are well-marked and shoes aren't required.
The Spruce Creek Ride is once again offering an Endurance ride on day 1 and a CTR on day 2. A win-win in my opinion. Plus, this will be the 1st CTR of the season. If you want to participate in the CTR Challenge for this ride year, you need to begin at this ride.
The beautiful Biltmore Estate will once again host the Hope for Horses Benefit ride. Manicured trails, beautiful countryside with fall weather. You know you want to be there!
FHA Clinic and 25 mile CTR at the end of October would be a great way to learn more about distance riding or to start a new horse to the sport. Speakers have been lined up, trails are in the clean-up process and the final preparations are almost sorted out. This is a great location to learn more about distance riding, camping with your horse and competing with a horse that is happy and healthy at the end of the day.
Another favorite is the Autumn Gallop benefiting Camp Boggy Creek. This ride and location is near and dear to many of us. The trails are always well marked with great footing. An occasional bear sighting is not unheard of. Then there is the facility this ride is benefiting. Come early and take the facility tour. Bring extra money to purchase raffle tickets to win prizes of various values from generous sponsors. This year we hope to raise $25,000. Ask co-workers, business associates, friends and family for donations.  During the ride enjoy grilled cheese sandwiches hot off the grill.
Broxton Bridge will be busy with an endurance ride then followed by USEF, NAET & AHA Region 12 Championship. AERC and SEDRA  members are invited to participate in both. Located in Ehrhardt, SC at a time of year where you can really enjoy the fall colors and cooler temperatures.
I'll end this recap of rides with the Blackwater Boogie in west Florida. Cindy out does herself every year to make sure everything is as perfect as she can make it. This is another great place for your 1st competition or to do your 1st 50 or 75. Trails are typical Florida forest trails. Camping is on private property. Stalls available.
You can find all the information about these rides and others as well as informative articles and nominations forms  on our website: www.distanceriding.org
Let's make our 35th Anniversary year the best ever TOGETHER!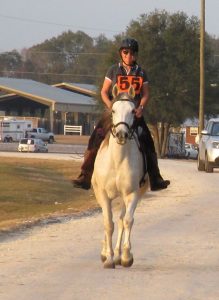 Happy Trails!
Chris Littlefield
SEDRA President