Spring is just around the corner. For many of us, it cannot get here soon enough. MONTHS of rain have left my property a massive mud pit. On my way to the FHA 100 my trailer sank in my drive as I was trying to pull out. What a mess. On a positive note, all this rain should make for greener pastures!
Wherever home is for you, I hope the weather will soon be back to your favorite temps and riding conditions.
Bad weather hasn't stopped our ride managers though. It's been tough enough to get rides approved so adding a little bad weather isn't going to slow them down. I have enjoyed reading the recaps from our members on how they made the best of canals, heavy rains, cold snaps with wind chills and a couple of unusually hot rides.
Membership:  At the beginning of our renewal year (June through May) I wondered how we would continue to retain and grow our membership.  By July/August COVID continued to alter how we lived our lives. Group engagements were limited, with most establishments requiring masks. There wasn't a person I knew that was not affected by this virus.
Our members continued to support this wonderful club and we have continued to grow with many new members this year. Our current membership count is 204!  A heartfelt thank you to everyone.
Many of our members (new and old) take the time to volunteer when they can't ride. This is by far the best way you can give back to this sport. The knowledge you can gain is priceless. I learn something new every time I volunteer. EVERY TIME! Plus, I always come home with a new friend made.  A win-win! Contact the ride manager directly about volunteer opportunities.
AWARDS:
Speaking of members, it's that time of year where the deadline to submit your nominations is closing in. March 31 is the last day to submit your nominations for the various awards SEDRA recognizes.
Hall of Fame: The Hall of Fame recognitions available are for Horse, Rider, Horse & Rider Team and Exemplary Person. These are lifetime achievement awards that are voted on by the BOD. Since it is a lifetime achievement award, the recipient is not required to have competed in the year of nomination.
Find the criteria and forms here: https://www.distanceriding.org/awardsachievements/hall-fame-awards-criteria/
SPECIAL AWARDS: These awards are voted on by your peers at our annual meeting. Recognitions include the following:
CVR Rhubal Kahli Rookie Horse and Rookie Rider Team Award This award was created to honor the memory of a rookie horse that took exceptional care of its rookie rider during their first season of distance riding.
The Cathy Booth Memorial Horsemanship Award and The Mickey Blanford Excellence in Competition Award These awards were established in remembrance of two special SEDRA members.
The King's OCS Lad Memorial Trail Horse Award This award honors the memory of a very special SEDRA trail horse.
An outline of the qualifications/criteria for special awards along with the nomination forms can be found here: https://www.distanceriding.org/awardsachievements/sedra-special-awards-criteria/
Renewals or new memberships available year-round! Don't forget to sign up your horse too! https://www.distanceriding.org/rider-forms/
UPCOMING RIDES: Sanctioned rides are listed on our calendar here: https://www.distanceriding.org/sedra-events/
FITS / March 11-13: 3 days of riding in the Goethe Trails. Pick one, pick 2 or ride all 3 days! The Goethe trails are a mix of sand, a little more sand, maybe some water or a lot more water followed by more sand. I enjoy the ride every time I go with pine forests, sabal palms and a wagon team every now and again. Always well marked and camping will be available on private property next to the forest. (Limited Entry Ride)
SCENIC SPRUCE CREEK / March 27-28: 2 days on beautiful Florida trails some that parallel the river. I love looking for and finding Native American marker trees. Read about those here: http://ourpreciousmemories.ning.com/profiles/blogs/indian-marker-trees  Since COVID no camping on property but there is a stable nearby. Information will be on the entry. More about the park can be found here: https://www.volusia.org/services/community-services/parks-recreation-and-culture/land-management/conservation-lands-map/doris-leeper-spruce-creek-preserve.stml
MCCULLEYS / April 10-11: If you live and ride in the SE, odds are you have been to McCulleys Farm. This year we have a new ride manager who shares with us that she has expanded the trails beyond what we have rode in the past. This is a beautiful trail that parallels the river and when running clear provides the opportunity of seeing beautiful Blue Sink. The trail has twists and turns through the pines, goes under the "wet" bridge and "dry" bridges (due to locations not the trails) and is usually dry and easy to navigate. This is a great area for 1st time riders also. Plenty of parking, hook ups and stalls available. Small shower house with bathroom also available. Food is always good as is the company. More about the farm can be found here: https://mcculleyfarms.com/
From the new ride manager Kaleigh: There isn't a rider limit. However due to covid limitations people still need to pre- register as much as possible. Some new trails have been cleared and we have more options for routes which is fantastic. I have some other exciting things in the works like giveaways and custom awards for top placings.  We will have a few tack venders coming as well.  Also, a large part of the proceeds will be donated to the 4-H kids that are volunteering at the event, and we have a few youth newcomers. I am trying to make this event as family friendly and fun as possible!
Are you ready to venture north and try somewhere new or more challenging? We have 2 rides that are always getting great reviews.
Broxton Bridge /Lets Have Fun Riding: April 30-May 1: When do we not have fun riding? It's falling that isn't fun. This has become a favorite location for our members with a nice campground, good food and groomed trails. Sounds like the fun begins as soon as you pull in! More information about the plantation can be found here: http://broxtonbridge.com/
Yellowhammer / May 14 – 15: Personally, this is one of my favorite trails. It is technical and it is BEAUTIFUL! You have lots of ups and downs and some water crossings. Beautiful views on a clear day with plenty of wildflowers in bloom. You will need hoof protection whether it be shoes or boots. If you ride with a loose saddle, a breast collar is necessary. There is plenty of horse water in camp and a shower house 1 mile down the road. (Small fee charged). The locals love it here too.
Don't Forget! Did you compete and finish at an endurance ride that wasn't sanctioned with SEDRA? We recognize the miles for mileage awards! $5 per ride or $20 annually gets those miles counted! Find the form here: https://www.distanceriding.org/wp-content/uploads/2020/09/Mileage-Buy-Back-Program.pdf
Whenever you need information about rides, horse care, endurance tips and anything else related to our sport look to our Facebook page and website. Caren keeps us up to date on latest trends and articles that benefit us and our equine partners. There is a "tack box" full of useful information available! Join our Facebook page for informative articles and latest news events.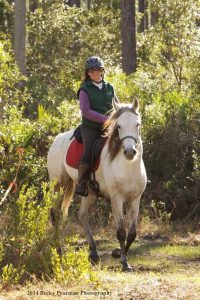 Happy Trails!
Chris Littlefield,
SEDRA PREZ